We pay tribute to Australians who have made major contributions to braille.
Tilly Aston (1873-1947)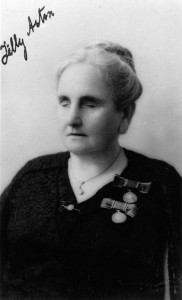 Tilly Aston founded Australia's first Braille Library, the Victorian Association of Braille Writers in Melbourne. Miss Aston was the first blind woman to be admitted to an Australian University but was forced to end her studies prematurely, largely because too few books were available in braille. This experience provided her with the strong motivation required to found the Association of Braille Writers, which she did with the assistance of friend, Mary Blakely, in 1894. Volumes were hand transcribed into braille by devoted volunteers using a slate a stylus. When it became evident that the many books being produced in braille needed to be stored somewhere and that the whole enterprise needed to be managed, Miss Aston helped to raise funds by demonstrating and singing at meetings of the Australian Natives' Association. As a result, the Association of Braille Writers was able to rent a room in The Block Arcade in Collins Street, Melbourne, from which it circulated books to readers all over Victoria. The books were kept at various homes, and then at the Blind Institute, until 1919 when the Association opened its purpose-built Braille Library on Commercial road in South Yarra. The Association and its library collection now form part of the Vision Australia library service.
Tilly Aston founded the Association for the Advancement of the Blind in 1895. The Association went on to obtain improved rights and services of international significance, including free postage of braille for people who are blind and vision impaired.
Tilly Aston was further distinguished as Australia's first teacher who was blind. She was very talented in the arts and the author of seven published books.
Tilly Aston received a Commonwealth grant for her writing in 1935 and the King's Medal for Distinguished Citizenry in 1935 and again in 1937.
Richard Frank Tunley, MBE (1878-1968)
RF Tunley was known as the "Fairy Godfather of Blind Children", having  dedicated his life to improving the lives of visually impaired children and adults through the production of braille globes and maps as well as models, toys, doll houses and games. These objects were all handmade with great care and were used widely throughout Australia and abroad in the 1960s. Many are still held in the collections of blindness agencies and are frequently cited by touch readers as the best examples of tactile maps they have felt. He authored the booklet "Braille Maps and how to make them".
Mr Tunley was involved with the Narbethong school for deaf and blind children from the early 1920s.  He lobbied to make education compulsory for blind and deaf children (this occurred in 1924) and worked for the establishment of Braille House at Annerley in the 1950s.  Through the Queensland Braille Map and Model Club, Mr Tunley organised for educational material to be sent, free of charge, to schools for the blind throughout Australia and the rest of the world. Mr Tunley was awarded an MBE for his services to the visually impaired in 1953 and continued to work tirelessly in the field until his death at age 89.
Further information about Mr Tunley and his work for the blind is available from the State Library of Queensland and in this youtube clip.

Minnie Crabb (1885-1974)
Miss Minnie Crabb began her career in braille immediately after leaving school as an assistant to her aunt, Mrs. May D. Harrison, who was one of the founders of the Braille Library in South Yarra (later to become known as Vision Australia Foundation). She served in the roles of assistant librarian and assistant secretary for the Victorian Association of Braille Writers, taking over as chief librarian and secretary when her aunt died in 1912.
In 1924, Minnie Crabb wrote Braille text book : a simple system of embossing books for the blind on behalf of the Victorian Association of Braille Writers.
In 1934, Minnie Crabb was responsible for inventing the Crabb-Hulme printing press in partnership with Mr Hulme, a printer from Sentinel Engineering Works. It was the only machine of its kind in the world and revolutionised braille production by allowing duplication and printing of both sides of a page, greatly reducing storage and production costs. It was used to produce the Association's monthly magazine with newspaper articles, news from the association and reviews of books newly transcribed for the braille library. The press remained in use until the 1970s and was restored in 2001 to full working order. It is now on display at the Vision Australia head office in Kooyong, Victoria.
Minnie Crabb held the roles of Chief Librarian and Secretary for the Victorian Association of Braille Writers for 37 years until her own retirement in 1944, after which time she continued on as a committee member.
Dulcie Magnus, OAM (1911-2003)
Dulcie Magnus was a braille music transcriber whose memory will be treasured by the many blind people she knew and assisted over almost 50 years.
Dulcie began her career as a music teacher at Frensham Girls School and a piano soloist and accompanist. After becoming curious about the difficulties faced by blind musicians, Dulcie learned braille and, with missionary zeal, set out to produce almost all of the standard repertoire for piano in braille.
As an Honorary Music Consultant at the Royal Blind Society of NSW (RBS), Dulcie established the RBS Braille Music Library. In her role as a member of the Australian Music Examiners Board (AMEB) she was able to forge important links between examiners, teachers and students.
Similarly, Dulcie was instrumental in connecting teachers and transcribers across Australia to avoid duplication of music scores and discuss the way blind children were managed in an integrated school setting. These discussions were instrumental in the launching of the National Braille Music Camp, which is still an annual event. Dulcie took great interest from the start and attending several camps, giving generously of her time and talent.
The Royal Blind Society's  centenary celebrations coincided with Dulcie's 21st year as a braille music transcriber. To commemorate those events she transcribed the Bach 48 preludes and fugues, setting them out in open score – a mammoth task as any musician would know.
In recognition for her tireless work for the blind, Dulcie was awarded the Queen Elizabeth the Second Silver Jubilee Medal in 1977, the RSL Anzac Award in 1985 and the Advance Australia Award in 1992. Also in 1992 she was honoured with the Order of Australia Medal for "for service and support to people with visual impairment, particularly through the transcribing of written music into braille since 1958".
Dr Mercy Dickinson, AM PhD (1919-2003)
After losing her sight at age seven, Mercy Griffin Dickinson attended the Blind School in Brisbane, the State High School, and Queensland University, being the first blind student to obtain a degree there in 1939. She was awarded the Fulbright Scholarship to New York in 1953 to study techniques for teaching the blind. Mercy was instrumental in the establishment of the Queensland Training and Placement Centre for the Blind and the development of further services for the blind.  She devoted countless hours as a volunteer proofreader and braille teacher for the Queensland Braille Writing Association which had furnished her with study materials earlier in her career. In particular, we thank Mercy for her work as Chair of the Australian Braille Authority.
Mercy's autobiography, "As I've Seen It", was recorded by the Queensland Narrating Service.
Joan Ledermann (1930-2000)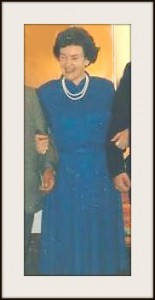 Joan Ledermann was the first Chair of the Australian Braille Authority when it was convened in 1982 and was elected again as Chair of the ABA in 1994. She played a key role in the development of the Australian Braille Mathematics Notation.
Joan Ledermann served a four-year term as President of the International Council on English Braille from 1995 to 1999. As Australia's member of the Unified Braille Code Project during this period, she was an early contributor to the development of Unified English Braille, the code now adopted in Australia and all major English-speaking countries around the world.
Joan Ledermann held certification as a braille transcriber and proofreader with the United States Library of Congress. She worked for more than twenty years as a manager of the Royal blind Society Braille Production Unit, where she was described as a "true professional" who would not accept any exceptions to quality. She was meticulous in her insistence that braille be produced in the most professional way, at a time when braille was elsewhere being downgraded.
in 1998, Joan Ledermann was presented with the NFBCA David Blythe Award for her tremendous contribution to the blind community through her professional career in braille and her voluntary work with Blind Citizens Australia, for which she had served as President. Bruce Maguire wrote: "Joan has become one of the most respected and influential figures among people who are blind in Australia. As a champion of the importance of braille as the primary literacy medium for people who are blind, she has played a unique role in the recent history of braille. Her zeal for braille and for the right of blind people to have equal access to information, has led Joan to be involved with all aspects of braille code development."
John Shute, OAM (1929-2015)
John Shute was a prolific transcriber of braille music. He was first introduced to braille music when he volunteered to work with blind music transcriber, Dorothy Hamilton, at the Royal Victorian Institute for the Blind. After attending the Braille Music Camp, John took it upon himself to learn braille in a period of three weeks, and then moved straight on to mastering the braille music code. John dedicated the last 20 years of his retirement to braille music. He transcribed all the music for the national Braille Music Camps for over 15 years, collating it in to beautifully bound books for the students to work from on the first morning of camp. In addition to his dedication to the music camps, John worked as a freelance transcriber, transcribing music at short notice for blind musicians, both in Australia and overseas, often working in the middle of the night to ensure their music was ready in time for rehearsal. He also mentored students and taught them to dictate their music to other friends encouraging them to become independent and self-sufficient musicians. John's selfless contribution over this period enabled many budding blind musicians to complete studies in music and launch their professional careers. His catalogue, which comprises over 30,000 pages of music, was donated to the Vision Australia library and continues to be an invaluable resource to blind musicians and music students of all ages.

The David Blythe Award was posthumously awarded to John at the 2015 Blind Citizens Australia National Convention, as explained in the New Horizons radio episode below, and he was awarded the Order of Australia Medal in 2016 for services to the blind and those with low vision.
A concert was held in John's honour in March 2016, with a group of blind musicians coming together to perform a selection of solo and choral works from his braille music collection.
Ian Cooper, OAM (1934-2012)
Ian Cooper was one of the instigators of the National Braille Music Camp in 1986. As a music teacher at Frensham Girls School since 1960, Ian arranged for the Braille Music Camp to be held at the school, providing a perfect setting with good quality music facilities, boarding houses and catering.  The Braille Music Camp continues to this day as an annual event, attracting students, teachers and music lovers to share a love of music with a strong emphasis on braille.
Ian was an inspiration to many blind musicians over the years, providing the support and advice required to forge their own careers. Ian's legacy lives on in the music he composed and the passion he instilled in the musicians he taught.
Recipients of the Tammy Axelson Lifetime Achievement Award
Every year since 2009, the Round Table on Information Access for People with Print Disabilities Inc. has presented a Lifetime Achievement Award to acknowledge outstanding contributions to the print disability sector.
The Lifetime Achievement Award page gives details of all recipients, including many who worked in the field of braille in Australia: Bruce Maguire, Jan Smark Nillson, Jacqui Booty, Josie Howse, Frances Gentle, Bill Jolley, Nigel Herring and Ramona Mandy.
ABA Past Chairs
Special thanks are extended to the past Chairs of the Australian Braille Authority, each serving for two or more years to lead and represent our organisation in the promotion and support of braille literacy.
Jordie Howell (2016 – present)
Christine Simpson (2010-2016)
Bruce Maguire (2006-2010)
Bill Jolley (2002-2006)
Josie Howse
Bruce Maguire
Leah Frances (-1990)
Mercy Dickinson
Joan Lederman (1981-)
---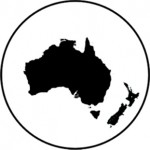 The Australian Braille Authority is a subcommittee of the Round Table on Information Access for People with a Print Disability Inc.
Last updated: December 15, 2017 at 21:02 pm