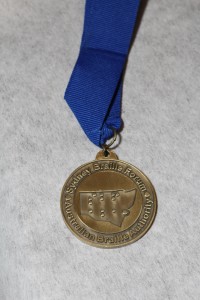 The Sydney Braille Forum conducts an annual Braille Writing Competition for New South Wales school students who use braille as their literary medium.
The main aims of the writing competition are:
to promote braille as an important literacy tool
to encourage students to improve their braille knowledge and skills
to provide Vision Support teachers with feedback on the braille knowledge of their students, and
to bring together students, families, and educators to celebrate the achievements of competition entrants at a special Braille Competition Award Night.
2017
The 2017 awards night was a wonderful event with 125 people in attendance. Some people travelled a long way to attend, with entrants from throughout country NSW.
Our special guest writer in 2017 was author Kate Forsyth,  who is best known for her historical novel, Bitter Greens. She has also written several children's books including The Impossible Quest series and The Chain of Charms series. She is an amazing storyteller and was very entertaining. The NSW Regional Braille Forum Convenor, Sandra Robertson, presented Kate with one of her books, The Impossible Quest,  in braille.
The competition award winners were each given a book of their choice in braille. It was wonderful to see them receive their award, return to their table and quickly begin to read.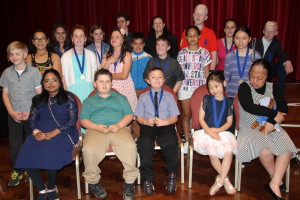 2016
Our guest for 2016 was Belinda Murrell, author of the Lulu Bell series for children.
2015
Jacqueline Harvey returned as our special guest author in 2015. She is a bestselling and award winning children's author best known for the popular Alice-Miranda and Clementine Rose series.
The competition winners were presented with a braille medal, braille book and mini plush guide dog.
2014
For the first time in 2014, two students attending the RIDBC Teleschool were able to join the NSW Braille Writing Competition Awards night via Facetime. Twenty three of the competition entrants were in present at the Burwood RSL along with their families and school staff, with a total attendance of 125 people.
The special guest author was Morris Gleitzman, one of Australia's funniest and best-loved authors for young people.
2013
In 2013 our special guest was Nathan Luff, children's author, playwright and self-proclaimed handstand extraordinaire. He wrote about the event on his blog:
"This lovely event each year is designed to promote more young people learning to read and write braille. With audiobooks and technology providing easy text to speech options, braille is being neglected and this is a real shame because braille is the most pure form of reading a vision-impaired person can have. Audio books are great but the person reading the book can't help but inject their own interpretation. Long live braille, I say!
"I was fortunate enough to be the guest speaker at this event. All winners received my book Chicken Stu, transcribed into Braille."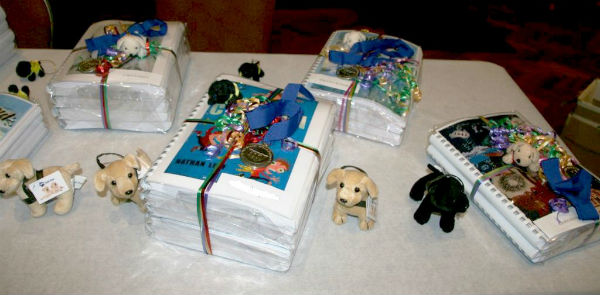 2012
Our special guest in 2012 was Andrew Daddo, a well-known actor and presenter on Australian television and radio. He is also an accomplished author of 25 best-selling books for all ages – picture books, chapter books, short story collections, young adult novels and adult non-fiction.
2008
In 2008, the NSW Braille Competition entrants were required to complete three tasks: Story writing, creating a title page, and proof-reading a passage. Pre-school and Kindergarten students entering the Braille Picture category were given the task of producing a picture using Braille dots. Congratulations to the entrants for their very creative entries.
Students, parents, friends and teachers all enjoyed the awards night in November. The guest author was Nadia Wheatley , an award-winning Australian writer best known for her classic picture book, My Place. Nadia presented the awards to the students and stayed after the prize-giving to chat with the students.
2007
At the 2007 awards night we welcomed special guest Jacqueline Harvey, a bestselling and award winning children's author best known for the popular Alice-Miranda and Clementine Rose series. Jacqueline read the group a very funny poem and then stayed after the presentations of awards to chat with students over dinner.
2006
Students, parents, friends and teachers all enjoyed the 2006 NSW Braille Writing Competition awards night in November. Author Libby Gleeson attended the award night to present prizes and talk to the students.  She read the group a story and then joined us for dinner to chat with the students.
2005
The NSW Braille Competition prize night was held on 24th November, with a large number of subcommittee members, competition entrants, their families and teachers present. During the evening, Irene McMinn received her award for the Onkyo Braille Essay Competition. Lee Smith assisted Irene with the reading of her story, which was a very special event for all the braille-using students present.
2004
The 2004 NSW Braille Competition proved a great success. Twenty two school-age students from across NSW submitted entries, including four beginner braille students in pre-school, kindergarten and Year 1. These four children submitted entries into the newly created Braille Picture section of the competition, and it was a delight to judge their entries and award them prizes.
The final meeting for the year in November was an award night for competition prize winners, their families and teachers. Prizes consisted of braille competition medallions, brailled story books and 2005 braille diaries. Compilations of the winning entries in the Creativity section were produced in braille and print formats and given to all participants. There were over 100 people at the prize night, and we were fortunate to have James Valentine, 702 ABC Sydney radio broadcaster and author, as our guest speaker. James had provided the opening lines for the writing segment of the competition, and assisted with the distribution of prizes.
Thanks are extended to the Braille Competition Committee members: Peter Le (Leader), Gail Constable, Nicola Stowe, Ruth Silverton, Josie Howse, Pat Dawson, Helen Merrin, Marie Shang, Mike Steer, Diana Braun, Gayle Stubbs, Carolyn Buiaroski and Frances Gentle. Thanks also  to the many subcommittee members who assisted with the planning and running of the November prize night, and to the Ryde Eastwood Leagues Club for their donation of the venue.
The success of the competition each year is greatly aided by NSW organisations who provide such support as prize donations and the production of competition materials in print and braille. The NSW Subcommittee Executive wishes to acknowledge the contributions of the following organisations:
Department of Education & Training NSW State Braille and Large Print Service
National Information and Library Service
Royal Institute for Deaf and Blind Children
Quantum Technology
St Edmund's School Wahroonga
William Rose School
2002
The 2002 NSW Subcommittee Braille Competition attracted entries from 20 students in Years two to 12 across New South Wales. The topic for the writing piece was "Your Perfect World: If you had three wishes, how would you change the world?" Many stories submitted addressed the issues of world peace and current global conflicts. Prize winners were Dara Mom, Jenny Sao, Nelson Ruffatt, Remy Sheather and Katrina Moore.
Thanks are extended to members of the 2002 Braille Competition Working Party: Gail Constable, Ruth Silverton, Diana Braun, Marie Shang, Pat Dawson, Lee Kumutat, Josie Howse and Frances Gentle.