Upcoming events
Forward Together – Open Day and Information Sessions
Insight Education Centre for the Blind and Vision Impaired is pleased to invite you to its Open Day Information Sessions at Bacchus Marsh Grammar. Discover how Bacchus Marsh Grammar will deliver an innovative Satellite School Program for vision impaired students in the West. During the public information sessions, tables will be set up for an accessible chess display. Insight's partner organisations will also be in attendance.

Location: Bacchus Marsh Grammar, Maddingley road, Maddingley
Dates: Friday 28 and Saturday 29 April 2017
Times: 
Friday 1.30pm: sporting exhibition with Victorian Blind Cricket Association players and Bacchus Marsh Grammar cricketers
Friday 3.45pm – 6pm: public information session
Saturday 10am – 12.15pm: public information session
Website: www.facebook.com/InsightEduVI/
Facebook: www.insightvision.org.au
Phone: (03) 9707 1585
ABA Annual meeting and Round Table Conference 2017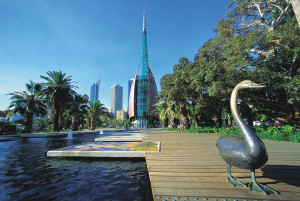 The annual Round Table Conference is a major activity of the Round Table on Information Access for People with Print Disabilities. It provides an opportunity for information sharing and learning across Australia and New Zealand.
The theme of the 2017 Conference is "Information Access – new modes, technologies and opportunities".
The ABA Annual meeting is a full day meeting open to anyone with an interest in braille. Voting delegates represent each of the ABA Regional Forums and Round Table member organisations. The meeting will conclude with a feature presentation by a special guest speaker.
The Round Table Conference will feature many presentations and workshops relating to braille, including:
Copyright Law and the Marrakesh Treaty and its implications – presentation by Melissa Wilan, Copyright Agency
Braille examination techniques and student strategies – workshop by Josie Howse, NSW Department of Education
Using the Duxbury Braille Translator UEB Australian template – ABA workshop by Kathy Riessen, SASVI
 Meeting of the Australia and New Zealand Accessible Graphics Group
Online registrations are now open.
Dates:
Saturday 6 May 2017 – Australian Braille Authority Annual Meeting
Sunday 7 to Tuesday 9 May 2017 – Round Table Conference
Location: Mercure Perth, 10 Irwin street, Perth
Queensland Braille Forum Meeting and Braille Club
Braille Club is a great opportunity for children who are blind or have low vision to get together and have some braille-related fun. In preparation for Mothers Day, we will make braille cards and collages at our May meeting.
Date: Saturday 13 May
Location: Braille House, 507 Ipswich Rd, Annerley Qld
Sydney Braille Forum Meeting
Date: Tuesday 16th May
Time: 4.30-6.30pm
Location: Ryde-Eastwood Leagues Club, 117 Ryedale Rd, West Ryde NSW
RSVP: annette.sutherland2@gmail.com
Learning Intervention Forum: Support learners with vision impairment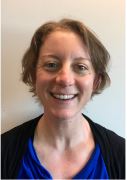 The Melbourne Graduate School of Education is pleased to invite you to their Forum on supporting learners with vision impairment. Emily White will share two new documents from the South Pacific Educators in Vision Impairment (SPEVI):
SPEVI Principles and Practice – Guidelines for quality education of learners with vision impairment, and
AITSL-SPEVI Professional Standards Elaborations for Specialist Teachers (Vision Impairment)
She will discuss how the Guidelines underpin the provision of an inclusive, equitable, and quality education for students who are blind or have low vision, deafblindness, or additional disabilities. She will also describe how the Elaborations outline and support the development of specialist knowledge and skill in these teachers.
Date: Wednesday May 24, 2017
Time: 11am – 12pm
Location: Rooms L613/L614, Melbourne School of Gruaduate Education, 100 Leicester street
Cost: free
Contact: Dr Shiralee Poed spoed@unimelb.org.au
Dot Power
Dot Power is a program run by the Statewide Vision Resource Centre (SVRC) in Victoria to help build children's skills and interest in braille. Eligible Victorian students from 4 years old (pre-school) to Year 3 are invited to participate and get as much braille under their fingers as is possible in one day!
Held termly at the SVRC, students participate in group activities designed to offer opportunities to read and write braille. 1:1 assistance is provided as required.
Dates:  Tuesday 13 June 2017
Tuesday 12 September 2017
Tuesday 21 November 2017
Location: SVRC, 370 Springvale road, Donvale VIC
National Braille Music Camp
The National Braille Music Camp is a fantastic opportunity for braille readers to learn, improve, share, transcribe and teach braille music. It is held at Frensham School, Mittagong, New South Wales over a week in June each year.
The 2017 National Braille Music Camp will be held from 24 June to 1 July 2017. Please contact Roma Dix for more information, including registration details.
Dates: 24 June to 1 July
RSVP: Roma Dix at romad@westnet.com.au
A recording of Tzena Tzena, performed by participants at the Braille Music Camp at the closing night concert in 2013, is provided below.
Sydney Braille Forum Meeting
Date: Tuesday 8th August
Time: 4.30-6.30pm
Location: Ryde-Eastwood Leagues Club, 117 Ryedale Rd, West Ryde NSW
RSVP: annette.sutherland2@gmail.com
Dickinson Memorial Literary Competition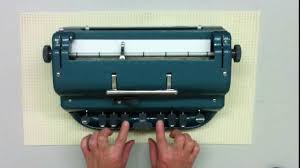 Queensland Braille Writing Association (Braille House) is proud to conduct the 2017 Dickinson Memorial Literary Competition, which is open to participants who are legally blind and Australian residents. Entries are now open. Pen a short story or poem to be in the running to win cash prizes.
The theme is "Belonging" and entries close 25 August 2017.
Adult:  Over 18 years
Senior student:  13-17 years
Junior student:  12 years or under
Eligibility: Participants must be legally blind and a resident of Australia
Format: Submissions should be in hard-copy Braille, Simbraille or a Duxbury-readable file
Entry fees: $10 per item for Adults and Senior students; $5 per item for Junior students
The Entry Guidelines and Entry Form can be found at  http://braillehouse.org.au/dickinson-memorial-literary-competition-2017/
VISCON 2017
RIDBC Renwick Centre Continuing Education Program invites participation at its two day VISCON conference, supporting children and young adults who are blind or have low vision. The conference will focus on:
adaptive technology
common eye diseases and strategies
curriculum access and adjustments
accessibility to printed materials
collaborative planning
orientation and mobility
therapy intervention
school based support
low vision devices in the classroom
NDIS
advocacy
inclusive schooling
Dates: Thursday 7 and Friday 8 September 2017
Location: RIDBC Renwick Centre in North Rocks, NSW
The call for papers is open until Friday 12 May 2017. For more information, please contact Jacqui Cashmore, jacqui.cashmore@ridbc.org.au.
Trans-Tasman Certificate of Proficiency in Unified English Braille
The Trans-Tasman Certificate of Proficiency in Unified English Braille is the only form of accreditation available to braille specialists in Australia. All candidates have one full week period in which to sit the test and can elect their preferred week.
Potential candidates are encouraged to ensure their readiness for the test by familiarising themselves with the required reference materials and using the sample papers provided. Applications for the 2017 test are not yet open.
Dates: week beginning 1 or 8 October 2017
NSW Braille Writing Competition Award Night
The Sydney Braille Forum conducts an annual Braille Writing Competition for New South Wales school students who use braille as their literary medium.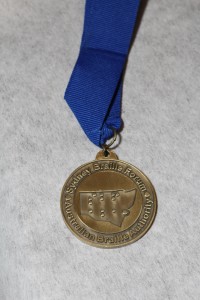 The main aims of the writing competition are:
to promote braille as an important literacy tool
to encourage students to improve their braille knowledge and skills
to provide Vision Support teachers with feedback on the braille knowledge of their students, and
to bring together students, families, and educators to celebrate the achievements of competition entrants at a special Braille Competition Award Night.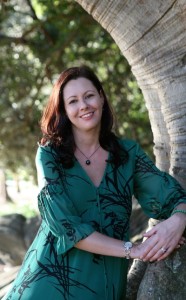 We are excited to welcome Kate Forsyth as guest author for the annual Braille Writing Competition Awards Night in 2017. Kate is best known for her historical novel, Bitter Greens, but has also written several children's books including The Gypsy Crown, The Puzzle Ring, The Starthorn Tree, The Wildkin's Curse, The Starkin Crown and Dragon Gold.
Students, parents, teachers and friends are invited to this celebration of achievements made possible through braille.
Date: Wednesday 22nd November 2017
Getting in Touch with Literacy conference
Getting in Touch with Literacy is a biennial conference in the USA devoted to all forms of literacy, including print, braille, auditory, tactile graphics comprehension and the use of assistive technology.
Dates: 6-9 December 2017
Location: New Orleans, Louisiana, USA
Website: www.gettingintouchwithliteracy.org
World Braille Day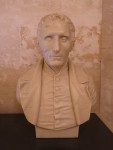 World Braille Day is celebrated on 4 January each year, in commemoration of the birth of Louis Braille in 1809.
Regular events
Regional Braille Forum meetings
The ABA Regional Braille Forums meet quarterly, often hosting guest speakers or special events. Please contact your local RBF representatives for details or watch this page for news of upcoming meetings.
Feelix Library Story Mornings
Vision Australia's Feelix Library provides fun and accessible book kits for young children who are blind or have low vision. The library hosts a story morning for once every two months on a Saturday, offering families a chance to share a story, join in the related tactile activities, and meet with other members of the library. Past story mornings included a beach theme with a large fresh snapper and some very prickly prawns; "The Elephant and the Bad Baby" read by Feelix patron Sigrid Thornton with an elephant trolley that children could sit in to go "rumpeta rumpeta rumpeta" down a bumpy tactile road; and a Christmas story morning with a singalong with Rachel Leahcar.
Past events
2017 SPEVI Keynote presentation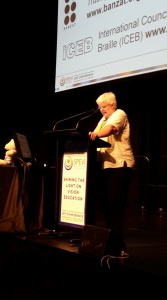 The Australian Braille Authority was proudly represented by executive member Kathy Riessen as a keynote speaker at the 2017 biennial conference of the South Pacific Educators in Vision Impairment (SPEVI).
Kathy spoke about the work of ABA and gave an introduction to our new guidelines on formatting braille.
2016 Sydney Braille Forum Writing Competition
The Award Night for the Sydney Braille Forum's Annual Writing Competition was held at the Burwood RSL on 16th November 2016. Forty four students entered the competition, writing on the topic "The Year of the Monkey". Our guest author was Sydney-based author Belinda Murrell and her latest book "The Lost Sapphire" was transcribed as one of the Awards.
2016 ABA workshop: Braille formatting
ABA holds a workshop each year in conjunction with the Round Table Conference. In Melbourne in 2016, Leona Holloway and Kathy Riessen introduced the new ABA Rules and Guidelines for Formatting Braille. The workshop materials and the Guidelines are available on the braille formatting in Australia page.
John Shute Memorial Concert
In March 2016,  a group of blind musicians from across Australia came together to for an afternoon of music to celebrate and commemorate the life of John Shute. After retiring from his career as an educator, John took it upon himself to learn the Braille music code as used by blind musicians. Having quickly mastered the code, John spent almost 20 years working, often voluntarily, to transcribe a virtual library of sheet music into Braille. John's selfless contribution over this period enabled many budding blind musicians to complete studies in music and launch their professional careers. Even after his passing his catalogue, which comprises over 30,000 pages of music, continues to be an invaluable resource to blind musicians and music students of all ages. John's services for the blind and low vision was recognised in Australia Day honours 2016, when he received the Order of Australia Medal posthumously.
A selection of choral and solo works from John's braille music catalogue were performed at the concert. Proceeds were donated to Cancer Research Australia, as nominated by John's family.
2015 Sydney Braille Forum Writing Competition
The Sydney Braille Forum Award night in November 2015 was a great success. We were especially pleased to be able to include remote students in the ceremony using Facetime. Guest author, Jacqueline Harvey, shared her passion for writing with our budding young authors.
2014 ABA Workshop: Raise your braille
ABA holds a workshop each year in conjunction with the Round Table Conference. In Brisbane in 2014, the workshop topic was "Raise Your Braille: New and Advanced UEB for Literary Material" and it was co-presented by Leona Holloway and special guest Phyllis Landon, ICEB's UEB Codes Maintenance Committee Chair. A group of enthusiastic braille producers and readers explored the new and tricky aspects of UEB, sharing their questions and knowledge.
2013 Sydney Braille Forum Braille Writing Competition
The annual Award Night for the Braille Writing Competition was held at Burwood RSL Club on 20th November, with 120 guests in attendance.
Many of the 43 students who expressed an interest in this competition attended the evening, along with their families, friends and school staff. It was wonderful to see the children catching up with friends they have made in previous years and meeting new ones this year.
Our guest author for the evening was Nathan Luff. Nathan is a Sydney based author and the book we presented on the night was "Chicken Stu". Nathan was very entertaining and spoke to the children about where his inspiration for stories comes from. One student told us that after listening to Nathan he now has a few ideas for next year.
It's wonderful to see the students embrace braille and enjoy the love of reading and writing in braille. We eagerly look forward to this event each year.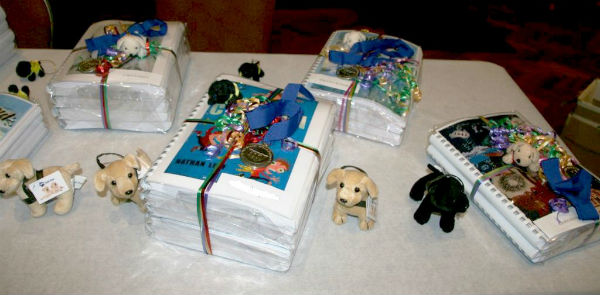 2013 ABA workshop – Tactual Graphics Production … How?
The 2013 ABA workshop on tactile graphic production was well attended by braille producers. The sample diagrams presented stimulated much lively discussion about what aspects of a diagram are most important and how they can be conveyed in a tactual graphic.
The 2013 ABA Workshop materials (PDF, 8.7MB) consist of visual examples of print and braille graphics used to stimulate discussion amongst the workshop audience. Not all are examples of best practice.
2012 Sydney Braille Forum Braille Writing Competition
The 2012 Award Evening was our biggest so far, with over 110 people attending. We were thoroughly entertained by our guest author, Andrew Daddo. Andrew shared many amusing stories about growing up and where he gets the inspiration for his stories.
Representatives from our wonderful sponsors were also present to help make this event such a huge success. These sponsors included Guide Dogs NSW/ACT, HumanWare, NSW Department of Education and Communities, Quantum RLV, RIDBC and Vision Australia. Their continued support is very much appreciated.
2012 ABA Workshop – Tactual Graphics Production: What, Why, When …
The 2012 ABA workshop was held in Perth on 30 April. Workshop participants included educators, producers and braille readers. We discussed the "what, why and when" of tactual graphics and contributed to building the 2012 ABA Workshop Materials (.doc, 56kb).
2010 The launch of the UEB Rulebook
The launch of the UEB Rulebook took place in Sydney, June 2010.
2009 Louis Braille Bicentennial Celebrations in Australia
Australia celebrated the 200 year anniversary of Louis Braille's birth with a wide range of braille-related Bicentennial activities in 2009.
---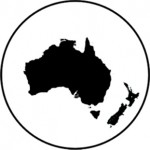 The Australian Braille Authority is a subcommittee of the Round Table on Information Access for People with a Print Disability Inc.
Last updated: April 26, 2017 at 12:09 pm